ShopTheFinest.com offers the great selection of discounted Italian classic menswear — all year round! It's one of few online stores that I can call truly unique — that's why it was extremely interesting to interview Ian Daniels, the founder of ShopTheFinest.com.

Hello Ian, what have inspired you to found ShopTheFinest.com — probably the only online outlet in the world specializing in high-end (real high-end!) Italian classic clothing, shoes and accessories?
Since I was very, very young I've drawn inspiration from beauty. This has remained with me my entire life and has extended to my passion of beautiful Italian handmade clothing and accessories. When I was growing up my father would not support my passion and when I became an adult I often found the retail prices for the clothing and accessories were so prohibitive it prevented me from enjoying as many items as I truly wanted. This is a long explanation as to an evolution that has taken a lifetime, but the real answer, and sometimes I say this jokingly is, "I wish I knew me, before I became me". Meaning I wanted to create something I found truly worthwhile in all ways of quality, selection, price, and very importantly service. I am our customer; therefore this business fulfills all the needs that I am truly passionate about.
Is it difficult — to search for unsold garments of high-end Neapolitan brands? Do you buy clothing directly from manufacturers? It's really nice to see lots of basic and very classic garments available in all sizes at ShopTheFinest.com!
Yes, it is not easy to accumulate the incredibly large selection of the best clothing and accessories. I think in part I've had such success because everyone I come in contact with I treat with a great deal of respect and honesty. In addition I am arguably the most discreet person I've met within the industry which means that I never discuss whom I source from. I think discretion is an asset regarding sourcing.
Do you think Italian-made menswear is the best in the world? Why not English- or American-made, for example?
Yes I do think Italian made menswear is the best in the world. There are some very good British brands as well, but for me Italian style and craftsmanship has always been superior to the British. In regards to American made products, they are very far and few between. America has virtually outsourced all production to overseas producers so I don't think they can be included in the conversation of the best of the best.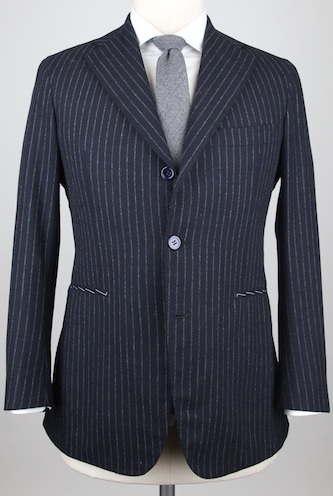 What are essential features of a high-quality suit and a high-quality shirt, according to your opinion?
For me it starts with the fabric and if you want to go even further the yarns that make up the fabric. I've tried to explain to clients, a chef, no matter how good he or she is, cannot create something nearly as delicious and wonderful as they can without fantastic raw ingredients. The essential ingredients if you will for luxury clothing and accessories begin with the highest quality yarns that are woven into wonderful fabrics. It's these fabrics which make the basis of suits and shirts you are asking about. With the basis of wonderful fabrics skilled Italian artisans can create handmade suits and shirts that can be truly enjoyed for years and years by the wearer.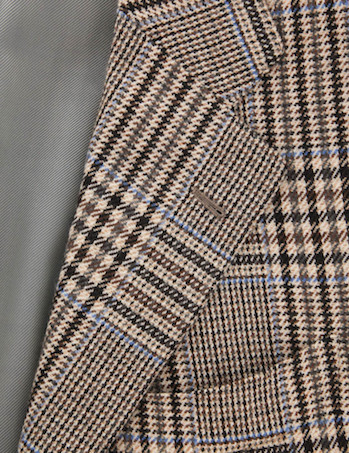 Moving past the fabrics the other two essential features are the styling and the workmanship. You could have the most fantastic fabric in the world, but if the styling and the workmanship are not outstanding it will simply not become a wonderful article to wear. Drawing on my previous analogy of the chef, if you have chef that has no idea what to do with the raw ingredients in the kitchen, no matter how wonderful they are, you will not have as the final result something wonderful to eat. Likewise if you don't have great style and great craftsmanship the final result of suits and shirts will also not be something you will truly love to wear for years.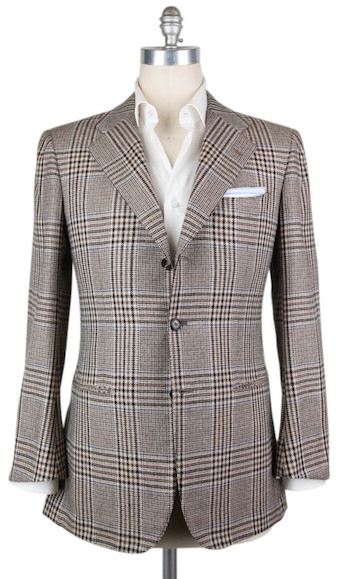 A bit strange question but still… You offer Fray shirts alongside with many other ones. These Fray shirts are machine-made but are more expensive that lots of handmade shirts… So the question is why Fray prices are so high? Do you think they are justified by the quality?
I think Fray is arguably the best machine made shirt in the world. Their execution is quite remarkable. If you look at the sewing of a Fray shirt there are over 20 stitches per inch and the workmanship is outstanding.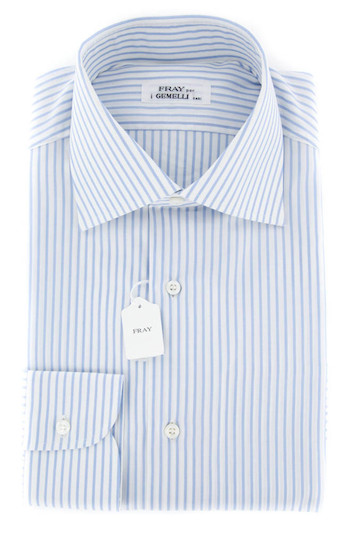 Regarding cost, Fray uses almost exclusively fabric supplied by a company called Riva located in Como, Italy. Riva is probably the most expensive fabric producer on the market. Riva makes fabrics that one could confuse with silk they are often so fine and smooth. Other than using exceptionally high quality cotton yarns they have very old special looms that create fabrics that are much more narrow than new looms and makes their fabrics much, much more expensive due narrow fabric produced by the old looms. Because the old looms produced fabric much more narrow than new looms, and because the quality of this fabric is exceptionally high, the cost of Fray shirts is as high or higher than many handmade shirts.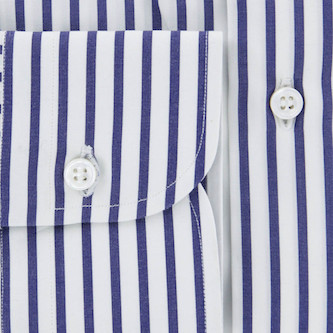 With that said, I personally prefer handmade shirts. I feel there is more "soul" if you will in a handmade shirt. The fact that a person has sat and intensely focused on sewing and constructing the shirt gives it more life and personality.
Another question is about Luigi Borrelli shirts (and probably not only shirts). I've heard that since around 2009 Luigi Borrelli quality is not so consistent as it used to be. Could you please comment on that?
Luigi Borrelli has undergone quite a bit in the way of company wide structural changes since 2009. Because of this reorganization, and losing quite a bit of their market share during this period, I think they had to pull back from using as high of a level of fabrics and as high as a level of execution in shirts. I am speaking specifically about shirts because the company was born in shirts and I think this is the category that has had the most challenges.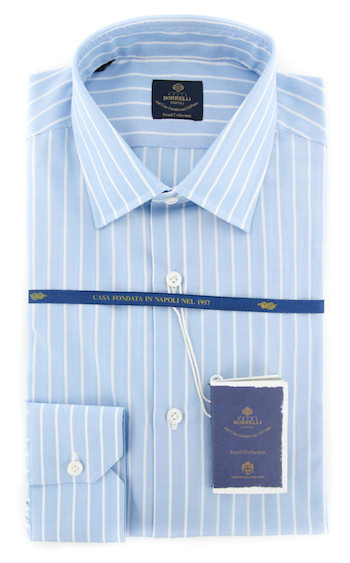 I am however pleased to see that they have introduced into the marketplace the last 2 seasons what they are calling the Royal Collection. With these new shirts you will find higher levels of fabrics and more of the hand details of the original Luigi Borrelli shirts that made Luigi Borrelli the company that truly had set the benchmark by which all companies prior to 2009 were compared. Hopefully the marketplace will embrace this new higher level so more and more product will be available the world over.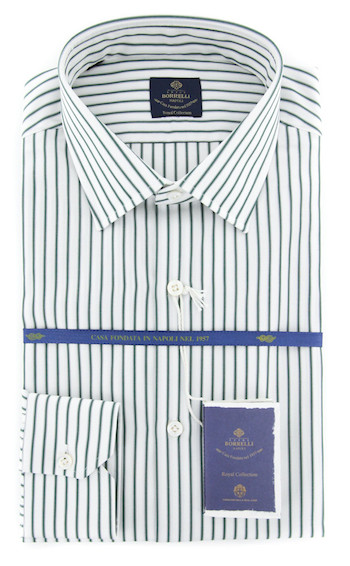 If we had to choose the best shirt and the best suit brands in the world, what would be your choice?
This question is so difficult. It really comes down to preference at any given moment in time and while I want to be politically correct about this and tell you they are all my favorites I will say that I find myself wearing mostly Barba Napoli shirts and Orazio Luciano suits and sportcoats. Part of it is a function of what we receive and part is a function of how they work for me personally.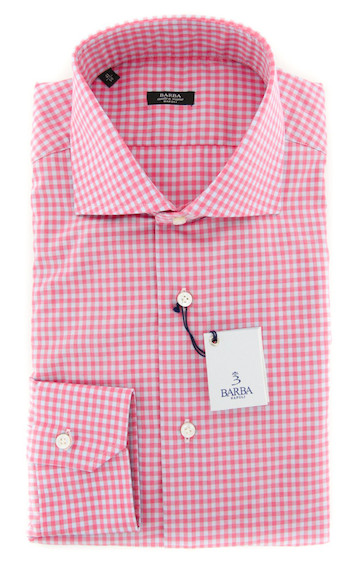 While the Barba shirts are only partially hand stitched I find they have good durability and we usually have a great assortment to choose from. Orazio Luciano sportcoats and jackets, while they don't use the highest quality fabrics as rule, have a great Neapolitan shoulder and the length is perfect for me. It's not about either of these products being the most precious, it's about them working well for my lifestyle and me personally and that is part of what makes what we offer so wonderful. Clients can have individual experiences and wear and enjoy clothing and accessories that are specifically right for them as a unique individual.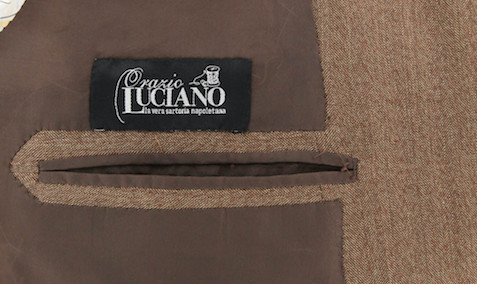 What shirts do you like to wear? (I mean colors, collars, fabrics…)
I'm not afraid of color or pattern, so I will quite frequently wear brighter colors and much more often than not shirts with patterns. I don't wear solid white shirts too often for some reason, but every time I do wear a white shirt it always feels right for me in that moment. Right now I am still more partial to checks, micro, small, and if with the right colors larger checks.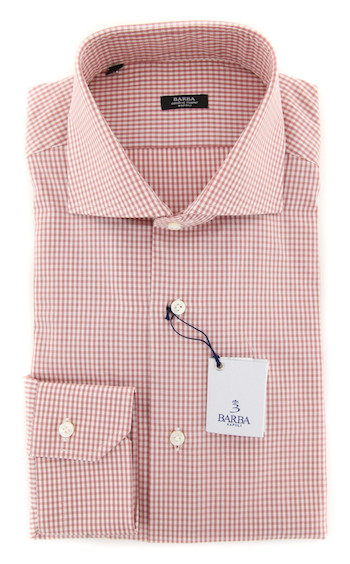 In the marketplace I am seeing a strong comeback of stripes, so maybe I will again be inspired by stripes, however personally at the moment I am still more attracted to checks. I'm partial to wider spread collars. I have what might be considered a longer face and wider collared shirt balances better with my face. Regarding fabrics, most of my shirts are 100% cotton, however I think cotton/linen blends are amazing for warmer weather and I never fly without using a shirt that has stretch fabric.
What are your favourite menswear brands? Why do you like them?
Suits, sportcoats, and coats
Cesare Attolini – amazing execution and models

Kiton – Fabrics

Orazio Luciano – fit

Pricipe d' Eleganza – All of the above and we are having great success with made to order suits and sportcoats for clients.
Shirts
Barba Napoli – durability

Finamore – quality

Luigi Borrelli – history
Pants
I don't have favorites, but I am consulting on a project for a brand that will be my future favorite. This brand is called Fiori di Lusso and we hope to start having product across a broad range of categories starting this fall.
Knitwear
Svevo – amazing yarns and execution
Shoes
Thank you very much for the interview!
It was my pleasure. I really appreciate the unique opportunity to genuinely express my passion for what I have chosen to dedicate my life to and in turn hopefully enrich the lives of many others the world over!