Bresciani is an Italian manufacturer of high-quality socks and underwear. Massimiliano Bresciani, the co-owner and president of this company, has kindly agreed to answer lots of my questions. The text of the interview is published below, and I hope that it will be interesting to all people who appreciate fine socks.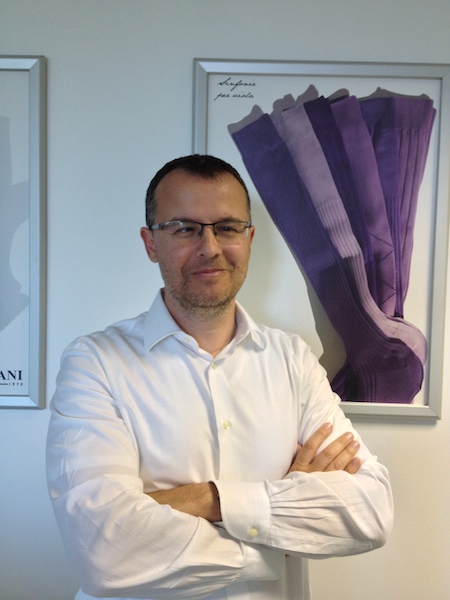 Dear Mr. Bresciani, I will start with more or less standard questions and then move to more unusual ones. I hope that the first question will help you introduce the company. As you know, there are a few brands of fine socks. What sets Bresciani apart from the rest?
We prefer not compare ourselves to other brands. We prefer just to highlight what is our dimension: we are still a Family artisanal business, notwithstanding we export to 42 Countries. We select only the best yarns (90 different ones in warehouse right now) and still have 12 production steps made by hand (not bad for a pair of socks 😊). We produce something like 150 new styles every year.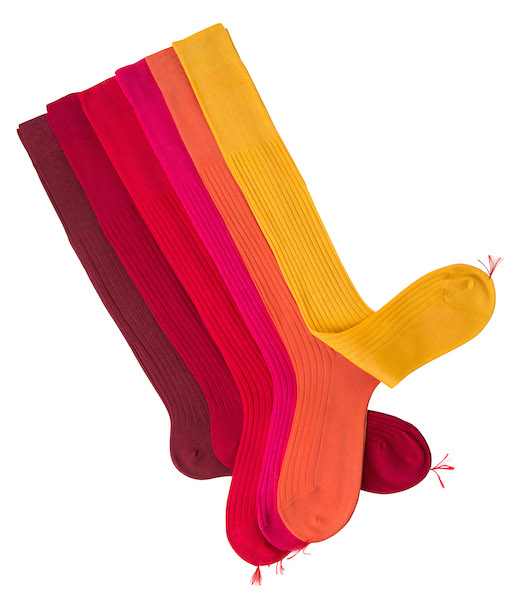 Bresciani is a family-owned company. What does it mean for customers? Do you think that family-owned companies have some 'inherit' advantages?
It means they have to deal with people with average 30 years of experience in this business and not with «a brand». They can talk to person and not to «a Company».
In good and in bad because we are not organized as big brands are, but we are more focused on the product and less on the marketing. And people have to pay for the product, not for the advertising.
Don't want to say we give more attention, but we have more possibility to give real «technic» answers based on years of work in the same business.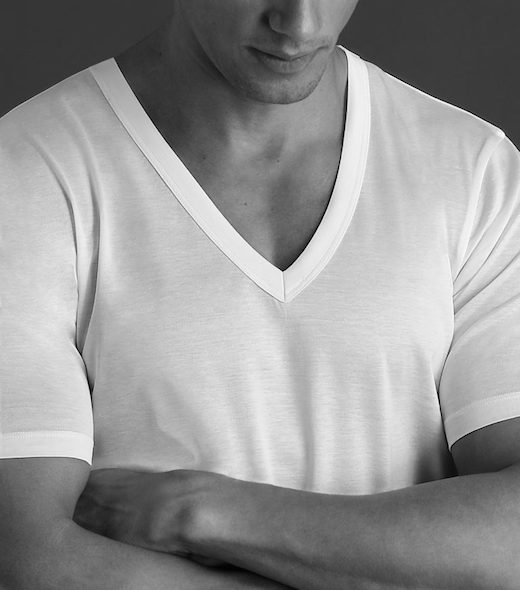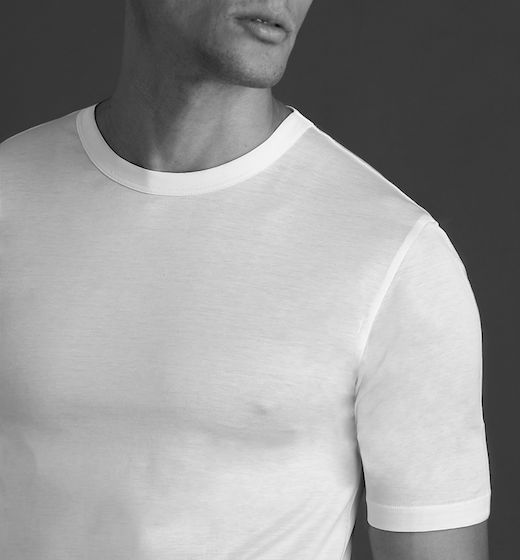 Your brand creates lots of designs – both conservative and creative ones! What design ideas have proved to be the most successful? Where does inspiration come from?
We have an «evergreen» permanent collection: vanisee, pied de poule, chevron, pois and basic ribbed socks. The inspiration is coming from our archives (thousands of designs), from our travels, from the Italian art and culture and, not last, from the partnership we have producing for the best brands in the world.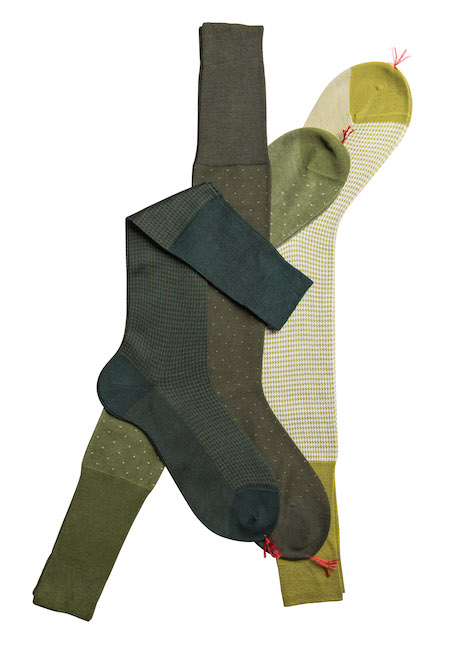 Nowadays only a few people wear over-the-calf socks, and yet you specialize mostly in them. Just curious: what is the approximate share of OTC socks in your output and sales?
Unfortunately, only 30% OTC right now. The trend indicated by stylists now is sockless and «tennis» socks. But luckily there are still people who like to dress in a proper way.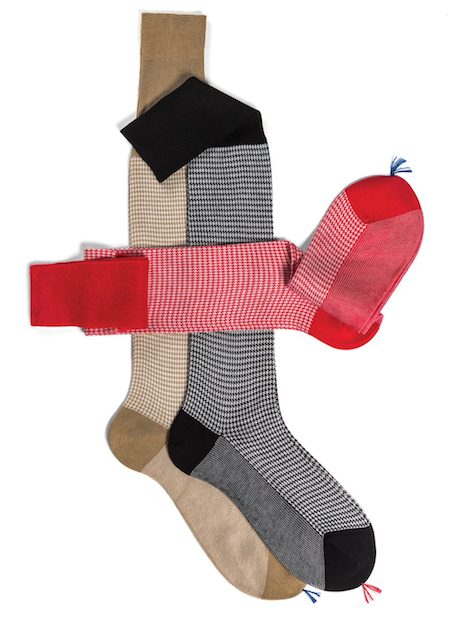 What raw materials and yarns are used for Bresciani socks and underwear?
Mostly Egyptian cotton; then Merino wool, Hymalayan cashmere, silk, linen…
Here are some details.
Egyptian cotton: a blend of Giza 45 and Giza 87, grown in Egypt, spun in Italy by Italian company Filmar, 2-ply, yarn counts up to 120, mercerized and gassed (singed), compliant with Oeko-Tex Standard 100.
Pima cotton: only for some casual socks; grown in the USA and Peru, spun in Italy by Italian company Iafil, 2-ply, not mercerized (otherwise it loses the soft feel).
Certified Sea Island cotton (WISICA): grown on Caribbean islands, spun in Switzerland by Swiss company Spoerry, 2-ply, mercerized, compliant with Oeko-Tex Standard 100.
Linen: grown in France, spun in Italy by Italian company Linificio & Canapificio Nazionale, compliant with Oeko-Tex Standard 100.
Merino wool: sheep are bred in Australia, yarns are spun in Italy by Italian companies Cariaggi and Italfil, 2-ply.
Cashmere: cashmere goats are bred in the Himalayas, yarns are spun in Italy by Italian company Cariaggi, 2-ply.
Silk: raw silk comes from China; yarns are spun in Italy by Italian company Torcitura Carlo Pessina, 3-ply, organzino.
This list is not absolutely complete.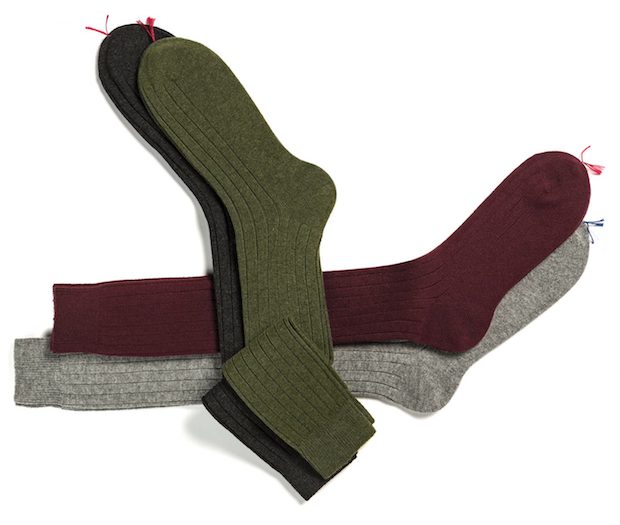 100% cashmere
Your cotton yarns supplier, Filmar, says that it has found small quantity of Karnak Menoufi cotton and made yarns of it. Have you tried or at least seen those yarns? Do you think they are really exceptional? Is there any chance to see Bresciani socks made of them?
We try a lot of new yarns every season. The yarn «Nilo» from Filmar is really good. Then some of yarns are too expensive to have a real business in socks.
After studying some specifications sheets from Filmar, I have a hypothesis: light socks are (a bit) more wear-resistant and durable than dark ones (all others being equal). Is it correct? What do you think?
Actually all the colors are different, also in weight, dimensions and performance. It depends on the chemicals used to fix the color to the yarn.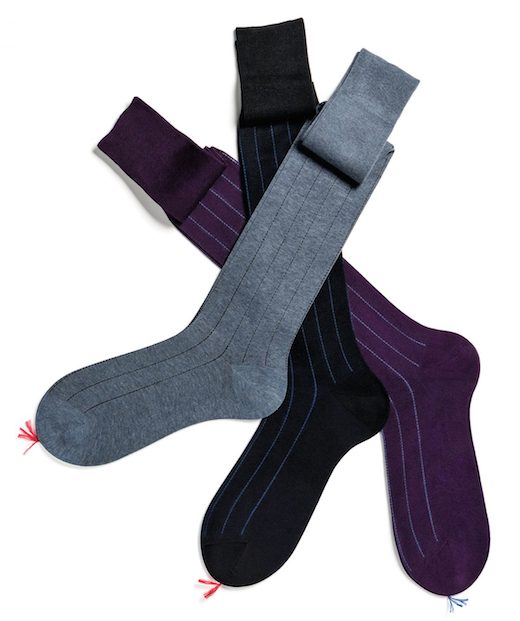 Your Sea Island cotton socks are much more expensive than your Egyptian cotton socks. Is Sea Island cotton really much more expensive than high-quality extra-long staple cotton from Egypt? Is it worth paying so much more, according to your opinion? I personally tried Sea Island socks and underwear from Bresciani, and while I appreciate them (especially Sea Island socks), it is still hard to justify these prices!
Price is almost double. I have a personal opinion about this issue but I keep it to myself 😊
Mes Chaussettes Rouges tells that your Vanisee socks are reversible. Is it true? Can they be worn inside out? Does it affect longevity?
All the socks are reversible. We have just to link the toe with the sock inside out. But not all designs are good inside as they are outside. Especially the embroidered ones, which have threads inside.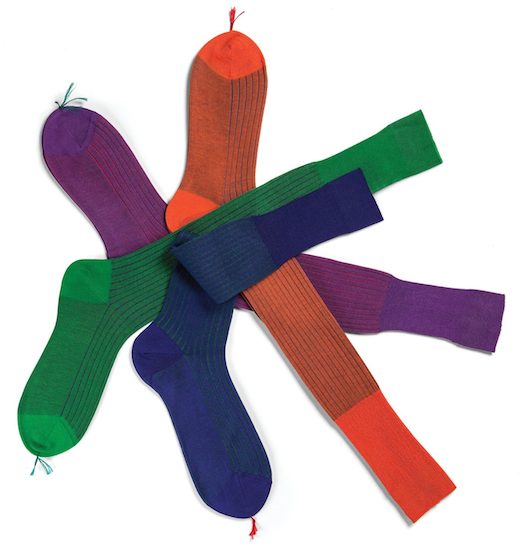 Bresciani Vanisee socks, 100% cotton
One of my favourite socks are Bresciani Vanisee made of cotton and wool blend. However, they're very rarely seen in shops. Is demand for them really so low?
This is the big issue. Retailers are buying only about 20% of what we produce. They are very conservative and want to buy only items they can order on stock and they are sure to sell. Vanisee in cotton is one of our bestsellers, in wool less because you cannot sell it all year round but only in Winter.
Vanisee made of pure cotton are very fine but they're a bit translucent – in my opinion, sometimes too translucent (well, it depends on colours). It's good for breathability, but I would prefer a denser/thicker variant. Do you plan to introduce some new Vanisee socks?
The Vanisee is the most difficult item to produce. The difficulty is not to have the color used for the rib «coming out» on the other part of the socks. Not all the machines are able to do Vanisee. And thicker yarn are not good for 200 and 240 needle machines we can use to produce Vanisee.
Yes, I know that Bresciani socks are usually knitted by machines with 200 or even more needles. The more needles, the finer the socks… but what about other sock properties: durability, breathability, wear-resistance?…
80% of the quality of a sock is due by the quality of the yarn. Technical skills can upgrade the quality, but not change it completely.
For durability only one option: synthetic. But this will completely change the cards on the table: less transpiration, less comfort, less «hand». Not forgetting more and more people are allergic to these «not natural» materials. Personally, I'm not able to wear socks with synthetics on the skin.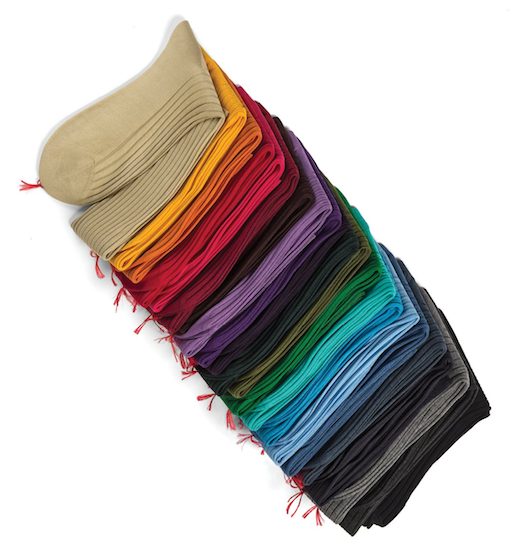 Bresciani socks knitted by 240-needle machines
What can we expect from Bresciani socks made of 98% camelhair and 2% silk blend? These socks are sold by Alexander Kabbaz.
This is really depending on personal taste. Camelhair is a good yarn. Maybe only for connoisseurs.
By the way, Alexander Kabbaz says that socks made of cashmere and silk blend are very durable – more durable than most other socks. Can you explain why? Can one expect such impressive durability from all cashmere+silk socks or, maybe, you know some unique secrets?
The «secret» is the silk, which is a very strong yarn. To make it even stronger, we can add nylon or elastane, but then you will lose all the «hand» and softness. Silk is the best natural alternative to the nylon.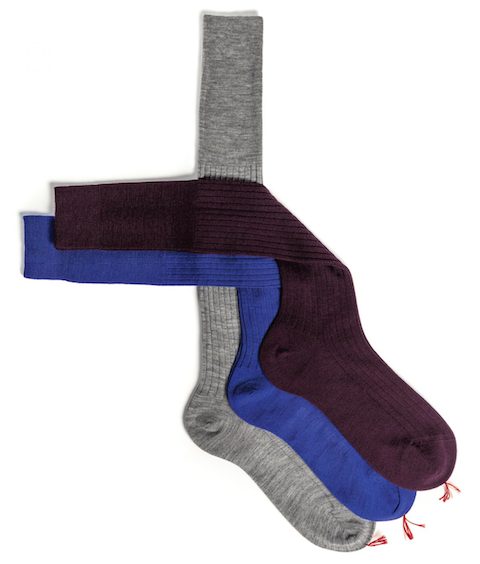 70% cashmere 30% silk
What would you like to change at Bresciani factory, but there is no opportunity / time / money to do that?
We are changing something every month. This work is never ending. Factories have to change always, otherwise they become obsolete. In this moment I can say more space could be good, but we have no more space in the location we are right now.
And I would like to move the Factory in front of the Sea 😊
The next question is about so-called hand-linking (due to this procedure toe seams are flat and comfortable). Nowadays this operation is often done by automated machines; few companies still use old-fashioned hand-operated machines for hand-linking. What about Bresciani factory? Do you still have some hand-operated hand-linking machines? Is there any significant difference between two methods?
We have 36 machines for production. 20 of these 36 machines are new generation ones, and the sock is coming out of the knitting process already linked. Then we have 5 machines for hand linking. The linking is exactly the same. Step by step we will change for 2 reasons: saving cost and lack of people who want to do this hand job.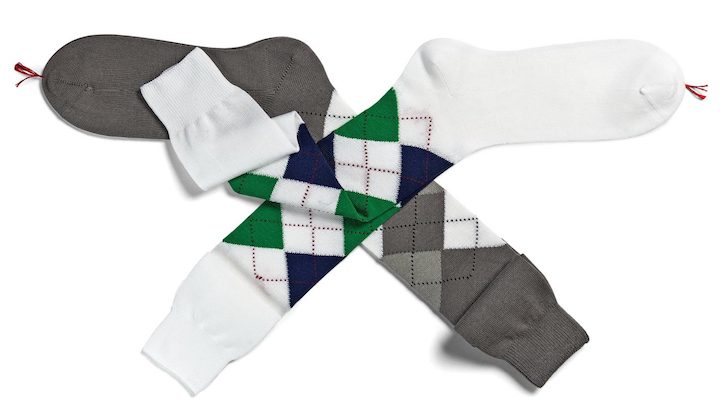 Bresciani makes socks for several (or even a lot of) other brands and shops. Some shops sell your socks under their own brands; however, they claim that these socks are made at your factory. Are they always made to your classic standards – i.e., can I be sure that the quality is absolutely the same? Can these brands/shops choose less expensive yarns and/or economize in some other aspects?
We have only one standard of quality. No more, no less. Sometimes customers ask for special yarns and we buy expressly for them, but it is very rare, as we have almost everything in our warehouse.
In some cases they ask for a cheaper packaging or for a cheaper cotton. But our cheapest cotton is always a good cotton.
What socks are the most underrated and the most overrated, according to your opinion?
Underrated is a good basic cotton sock. Overrated… once again I have my opinion but I don't want to upset the yarn's supplier.
What are your favourite socks?
Vanisee in cotton and basic 100% linen.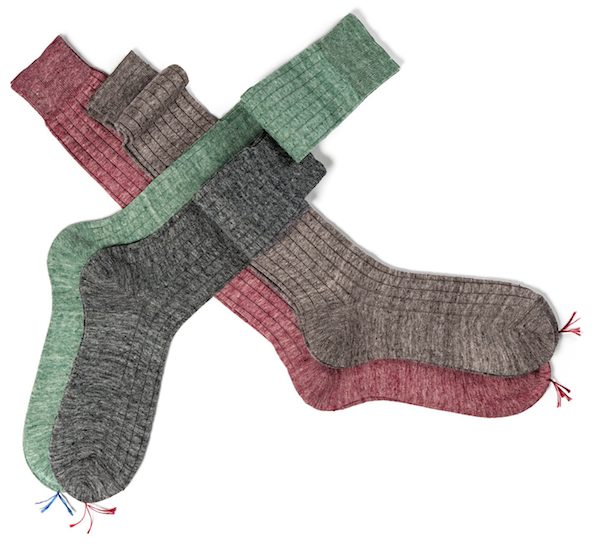 100% linen
What Bresciani socks would you recommend for those customers who would like to get as much as possible for their money?
The basic cotton in medium weight (176 needles). Very comfortable and very strong.