Abbeyhorn is famous for its high quality horn products made in traditional ways. The company was established in 1749, so it has a very broad experience in the industry. It was very interesting for me to interview Paul Cleasby, the current owner of Abbeyhorn. He's kindly agreed to participate, and today I'm happy to publish the interview here.
Mr. Cleasby, Abbeyhorn has been making various horn items for more than 250 years, but I guess the range has changed from time to time. What horn products were popular, let's say, 100 or 200 years ago, but not today?
There are numerous products that were in fashion many years ago that, due to technological advances, have fallen out of fashion now.
For example:
From the mid 16th century to the late 19th century Horn Books were manufactured as a teaching aid for children. These consisted of a sheet containing the letters of the alphabet and often the Lord's Prayer, mounted on wood and protected by a thin sheet of transparent horn. The wooden frame often had a handle, and was usually hung at the child's girdle.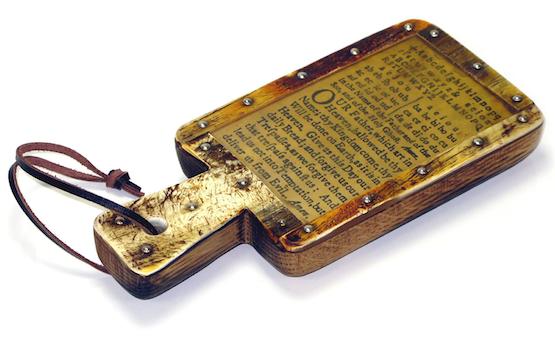 The word Lanthorn can be traced back to first use in 1587 although it has experienced great semantic change through centuries, to become the modern word Lantern. Originally consisting of Lant and Horn, the name refers to the thin translucent sheets of horn used as screens for candles.
Later in history Lanthorn 'leaf' was used to refer to 'panes' for lanterns and occasionally, only for the very wealthy, as window glass. The medieval town house of Barley Hall in the city of York displays a fully restored window of Lanthorn Leaf panes provided by Abbeyhorn. Whilst the town house was originally built in 1360 by the monks from Nostell Priory, it is unknown at what date the original horn window would have been added. Abbeyhorn still produces Lanthorn Leaf to date although mainly for restoration projects only.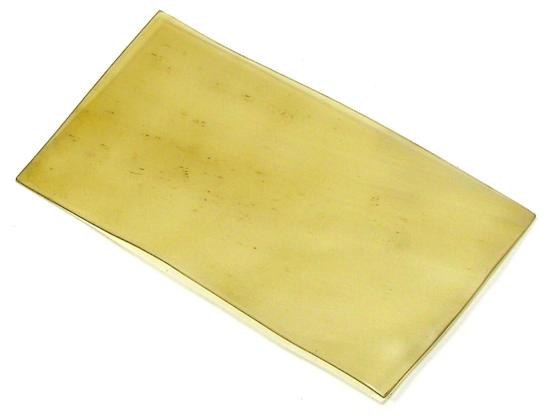 Dating back to at least the 17th Century Powder Horns would have been produced as containers for gunpowder. Typically each powder horn had a stopper at each end, with the wide mouth of the horn being used for refilling the vessel with powder and the narrow end used for dispensing the powder. These would have been carried by a long strap slung over the shoulder. Ornate examples still exist from this era, often lovingly covered in scrimshaw work, possibly done by their owners.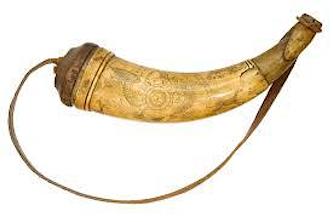 Horn Rimmed Glasses, Dowsing Horns and Pressed Horn Buttons also spring to mind as products that were once popular.
Do you use the same working techniques as 100 or 200 years ago? I suppose technological advances influence horn products industry in a way, don't they?
Our working techniques have changed very little over the centuries, it is one of the things that defines Abbeyhorn – 'handmade, using traditional techniques'.
I guess the biggest technological advance that has assisted us has to be electricity. Where many pieces of equipment used for horn working would have been run by a spring pole, this would only have been as fast as the operator pressing down on the treadle!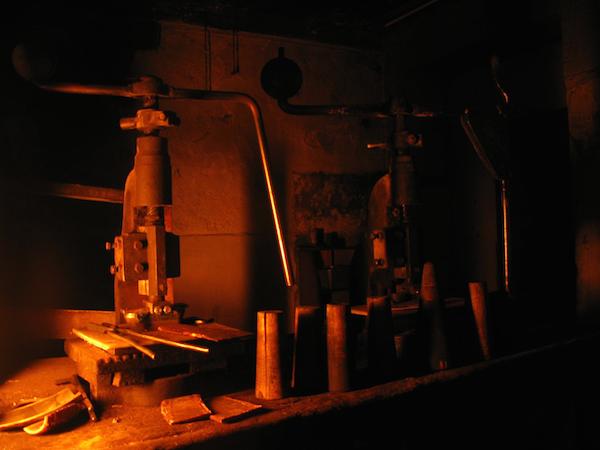 Surprisingly we still use the other form of treadle power today to cut out our spoon blanks– a fly press.
How would you describe the role of horn products in today's fashion? Is demand for horn items growing these days?
It thrills us that in today's throw-away society 'fashion' mirrors our passion. There is currently a huge upsurge in demand for products that are made in the UK, hand-made, produced from natural material and eco-friendly. It is exciting that horn ticks all these boxes without even trying and offers a touch of lasting luxury to everyday items.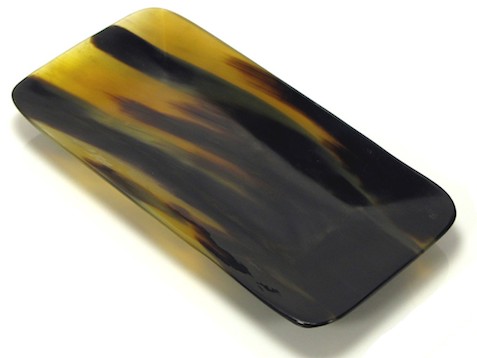 Do you offer bespoke service for shoe horns, jewellery, furniture? Do you produce items to clients' specifications?
Whist we have a tiny team of craftsmen working hard to produce the main stream products we create, we do also produce bespoke items to clients' specifications.
On a regular basis we produce a bespoke range of shoehorns called Mortimer's for Hanger Project and folding shoehorns for John Lobb. Guepes et Papillons send us brush blanks for us to back with horn for them, we provide the natural horn logos for Rare Bird and a horn leather smoother for Randd.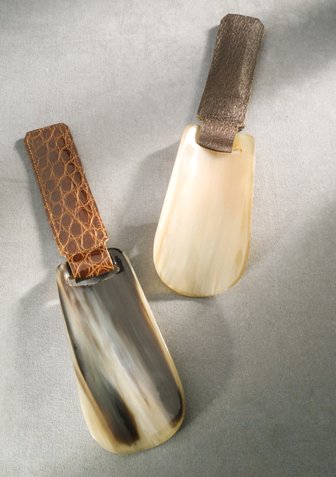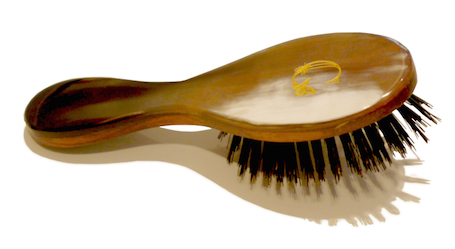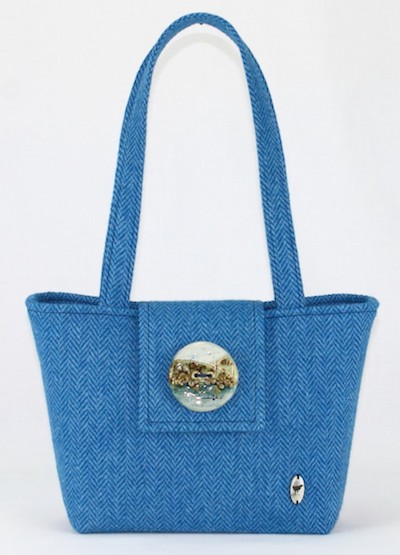 Over the years we have produced many 'one off' items for various clients. The most memorable one that springs to mind was a silver and horn coffee pourer created as a wedding gift for Lady Diana.
Shoe horns made of horn are obviously the most traditional ones, but do they have any practical advantages over metal ones? Or it's only a matter of aesthetics?
Horn shoehorns have so many practical advantages over metal ones, they are more flexible, their edge is softer on both the skin and the leather, they are often lighter weight than metal ones particularly in the larger versions and of course each one is unique.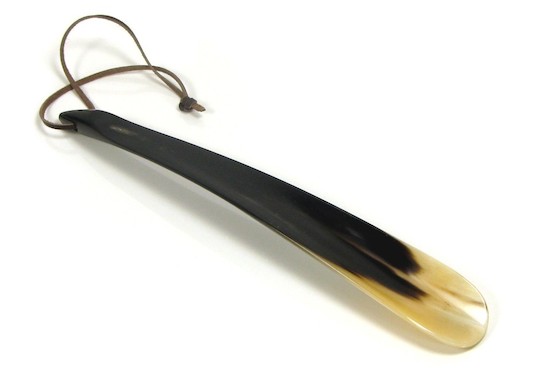 Is there any practical difference between cow horn, buffalo horn and antler? Which one do you prefer?
Cow horn has to be my personal favourite to work with, not only is it easier to manipulate than buffalo, the range of colours can span from creamy white, striking black with coloured flecks and markings, right through to browns and honey colours. Buffalo horn is nearly always black or dark brown and has fewer variations through each piece. The size and structure of cow horn makes it extremely versatile creating virtually endless possibilities for product design. Not only is finished cow horn beautiful to look at, it is an extremely tactile material, I defy anyone who can 'look and not touch'!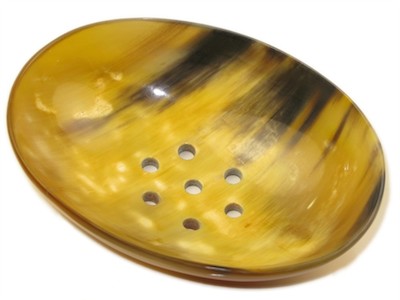 Antler on the other hand is a completely different material, structured more like bone, it has a honeycomb centre with a ridged outer surface and colours varying from cream to dark brown, depending on the climate and dietary conditions. Its cylindrical form makes it ideal for handles with the natural ridges aiding a firm grim.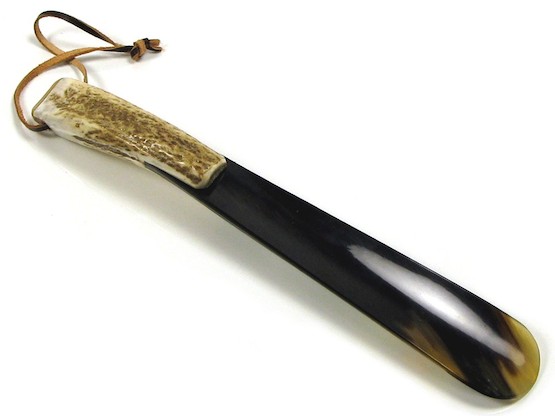 What is the most popular Abbeyhorn product?
This simply has to be our Soldiers Mugs. Dating back to the Crimean War in 1853 — it is reported that even Florence Nightingale had one…. these mugs are still produced today in virtually the same way.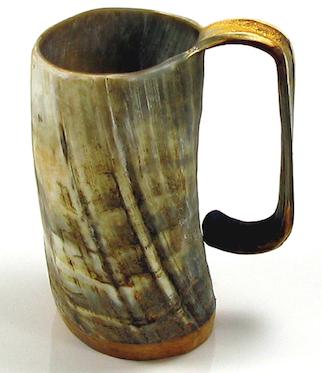 Since their appearance on the cult series of the Game of Thrones they are now even more popular than ever and we are currently finding it difficult to produce them fast enough to keep up with demand.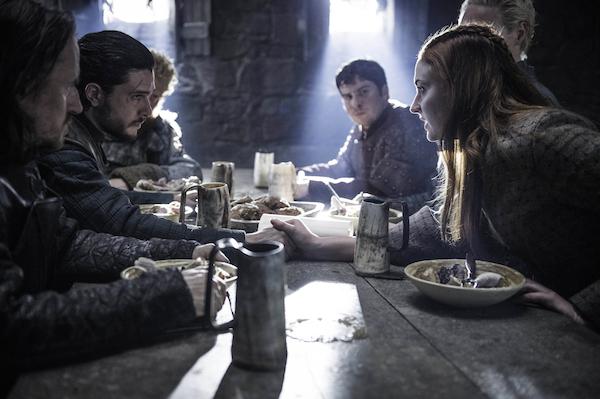 What Abbeyhorn items do you use in your daily life?
It may be easier to say what I don't use!
On my desk I currently have a horn beaker containing my pens, a horn letter opener, a spare comb and of course my yoghurt spoon. I have a horn dish filled with paper clips and a horn tray with spare change.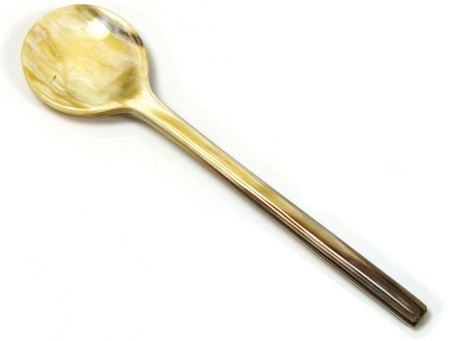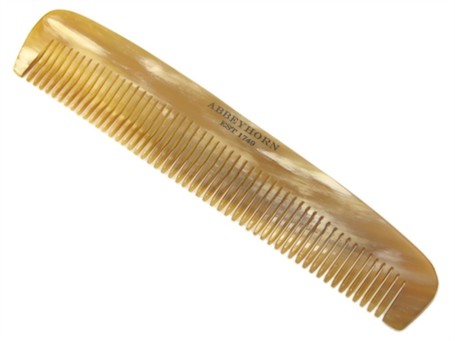 Horn cufflinks, bone collar stays, a shoehorn, an antler handled shaving brush and a horn backed brush are all staples of my personal grooming routine.
The list could go on…….