Fans of good English shoes probably have already heard about Herring Shoes store, which offers a wide range of shoes in both classical and casual styles — a number of famous English brands: Barker, Loake, Cheaney, Church's … Besides, this store offers a wide collection of shoes under its own brand — Herring; these shoes are produced in English, Italian and Portuguese factories; some models have a unique design and are not sold anywhere else. The owner of Herring store and brand — Adrian Herring — has kindly agreed to give an interview to The Best Guide project and answered a number of questions.

— Mr. Herring, I would like to start the interview with discussing the importance of Herring shoes brand — for you and for your customers. What do you get from developing your own brand of shoes, why have you decided to develop it? And how do customers benefit from the existence of Herring shoes brand?
— The Herring brand is unique. It has my name on every article so I have to believe everything is as well made and designed as possible before offering it for sale. When we had the 5 retail stores I was frustrated at the lack of colour & flair available in English shoes so I decided to create a small range which sold very well. Then the birth of the internet gave the styles a worldwide market the rest as they say is History! At Herring shoes it is about creating exciting designs for our customers who share our passion rather than safe designs that are guaranteed to sell well.
— Herring shoes are made by different manufacturers — Loake, Cheaney, Barker… I guess you have some criteria, which you use when it's time to decide where to produce a new model of shoes? Or maybe some models are born in the process of collaboration with some of these producers?
— I have often dreamt of running my own factory but my passion is design so working with our old friends in Northampton allows me to concentrate on what I love.
We are always looking at the manufacturers we can use, making sure they are keeping the quality and consistency of the product up to our very high standards. Once we have established those basics we then choose based on their skills. For example, the best handgrade quality shoes come from Alfred Sargent in low volume, Cheaney make stunning high quality shoes at a higher volume with less hand finishing, and then we use Loake for a lot of the classic, standard shoes. We are also about to use an new English factory that offers something new so keep watching the site!
— Do Herring-branded shoes pass additional quality control at the store? I've found a piece of paper inside the shoes box, signed by someone, responsible for Quality assurance. Or this control is carried out by the manufacturer, maybe?
— All shoes are checked for quality during manufacturing, which is where the piece of paper you mentioned was put in the box. We do our own checks when our stock arrives so sometimes we have to reject shoes and send them back, because we demand the best for our customers. All the shoes we send out are checked and polished before despatch.
— A lot of people (including me, to be honest) cannot fully understand the difference between, let's say, £150 and £300 shoes. They are both made in England from, for example, calf leather, and they are both equipped with Goodyear Welted Leather Sole. Will £300 shoes live two times longer than £150 ones, if wearing conditions are equal? Or the difference is mainly in comfort, design and decorating details, etc.?
— What is the difference between a Fiat and a Ferrari? They are both cars made in Italy but they cost very different amounts of money.
With shoes there are also basic similarities but the details make all the difference. The main difference would be the leather quality, really good leather will increase the cost of the shoe immensely. Another important difference is the amount of hand work. Low volume specialist shoes are often hand cut using brass patterns which takes far longer than higher volume styles will be cut using machinery which saves money. Finally the amount of time the shoe spends on the last and the time hand burnishing can add a great deal to the cost of the shoe.
There is no way to predict if a £300 shoe will wear better than a £150 shoe, as it comes down to the right shoe for purpose, how they are worn and looked after.
It is nothing to see a quality welted shoe lasting in excess of ten years.
— According to your opinion, are Made in England shoes better (in average) than Made in Italy ones? And how would you describe the key difference between Made in England and Made in Italy?
— If you mean a traditional Goodyear Welted construction from Northampton then there really is no better place to make it. The history and the skills go back so many generations that they cannot be beaten. But I would go to Italy (and we do) to get moccasins as we believe that is their strength & no british manufacture can touch an Italian Moccasin. In the same way we travel Portugal to get our deck shoes.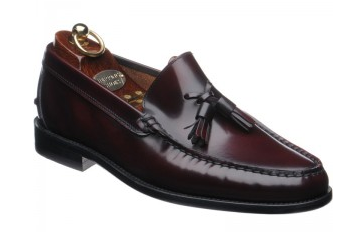 — Made in Portugal shoes are becoming more popular now, and as far as I know, some Herring moccasins are made there. What could you say about Portuguese shoemakers? Do they provide good quality for reasonable price? Or some compromise is inevitable here?
— We have some great shoes made in Portugal.
The key for us is making the best use of each country for it's speciality skills. We have nurtured our relationships with all our factories so we know what works well and what doesn't. We wouldn't compromise a shoe by making it abroad unless that was the best place to make it. Our Portuguese shoes tend to be blake stitched which makes them slightly cheaper and has it's own benefits of flexibility. In Europe many people prefer a blake stitched sole.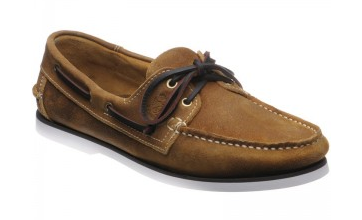 — What styles and colours of shoes do you prefer? What are your favourite shoes?
— I have always loved to play with colours and textures. I cannot pick one shoe but you will notice that I design quite a few two-tone shoes. The Fencote is one of our most popular styles. I also love the styling of a buckle monk shoe. I don't believe that mens traditional shoes should always just be black or brown. Our tweed combinations, for example, with our own colour of tweed look fantastic and are unique but still have a traditional feel.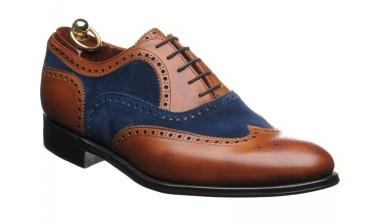 — What shoes (I mean style and colour) do you think are essential, so they should be in a wardrobe of every man?
— Herring Knightsbridge is a classic black toe cap oxford, would be the essential business shoe. For weekend wear a brown brogue such as Gladstone or a country boot such as Burgh. There are so many different situations you really cannot have too many shoes! and remember you are usually in your shoes or bed so you should always invest well in both.
— Here in Russia the weather is not very good, and streets are often dirty and wet. That's why there is a practice to stick some rubber additions on leather soles. As far as I know, English shoemakers are against this practice, because, as they say, such additions can affect balance, comfort and life of shoes. What is your opinion? Is it more reasonable to buy shoes with rubber soles if you are going to wear them sometimes in wet and dirty conditions? Are rubber additions really dangerous for shoes?
— It does sound strange but yes a sticker sole will affect the shoe a little, manufacturers will not refurbish or guarantee any shoe with these additions.
The best practice is always to wear a rubber or at least part rubber sole if you expect to have wet conditions for any length of time. A leather sole has many benefits such as allowing the foot to breathe but they really suffer in the wet. Rubber soles are not as breathable so may make your feet feel hotter (which may be a good thing in your climate) but they will keep you dry and they will last very well.
My advise to customers is this; if the rubber addition suits your environment then fit a very fine version, but first wear the shoe for a good few months before adding the rubber. This will lessen the balance issue and the worn sole makes a much better surface to bond to.
— Nowadays we can find lots of shoe care products — conditioners, waterproofing sprays, cleaning foam, etc. Are they really useful? Can't they affect the life of shoes? Or a good brush and a good shoe polish (and shoe tree, maybe) are enough to maintain shoes in a good condition?
— There will always be the latest trend and fashion in shoe care but the best is actually some basic general care. So many people do look after their shoes which shortens the life of the shoe. I often say «Look after you're shoes and they will look after you", so here are a few basic tips to enhance the life, comfort and appearance of your footwear.
Always use a shoe horn to put your shoes on, or the back of the shoe will be weakened
Do not wear the same shoes on two successive days; the leather needs time to dry and recover after each wear.
Shoe trees should be used after each wearing to maintain the shape of the shoe and help them dry out.
Wipe the shoes down and apply a quality cream or wax polish regularly to feed the leather and prevent cracking.
— Thank you very much for the interview!
No, Thank you for spreading the word and sharing our passion for wonderful shoes!
Adrian Herring has kindly provided The Best Guide readers with the opportunity to use a promotional code BGRU15, which allows you to get 15% discount when buying Herring-branded shoes in Herring Shoes internet store. Promo code is valid until the end of April 2014. Simply type it in the special field at checkout. Keep in mind that this code is valid only for purchases worth not less than £75.
Have a successful shopping!